Welcome to the August collection of my Photo a Day pictures. This month has an over-arching theme like last month's "Getting to known you" this month it's Food.
I really do not enjoy taking photographs of food, and so I've tried to be creative with the prompts. See what you think.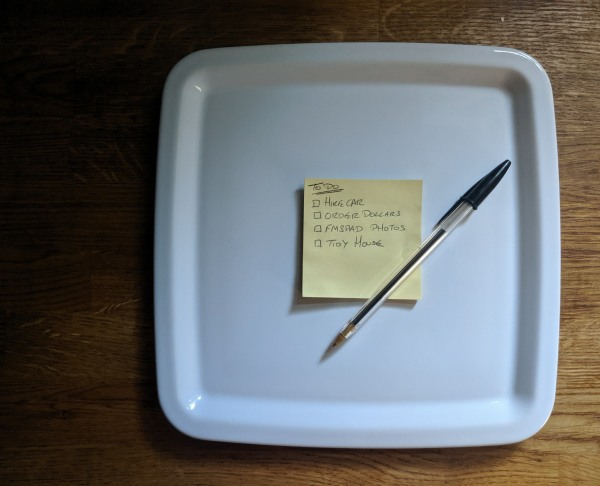 I was really busy, and had no chance to actually eat off a plate, so the only thing actually on my plate was a list of things I needed to do.  
I told you I was thinking outside the prompt.
A vegetable peeler, still not food (quite)
Remains of the makings of breakfast
Lunchtime packaging, sandwiches contained within.
Dinner service, belonging to Queen Victoria on display at Osborne House, on the Isle of Wight.
RAW image quality, still managing to steer away from obvious food photography.
Cooked? Not this goose….
…I have set myself the challenge of doing food month without photographing food… I thought this would the prompt I would have to give up, but came up with this play on words.
August 9th – In my pantry
One of the shelves in one of my pantry cupboards.  This has the wine, the fruit infusing alcohol and the empty jars that are ready to help with a glut of fruit or veg.
A dessert spoon, is the middle sized one between a teaspoon (5ml) and a table spoon (15 ml).  
August 11th – My favourite recipe
My favourite recipe is only used once a year, but every year.  It's the one for the tree biscuits I make at Christmas, these hang as decorations that perfume the air with the spicy smells of the season, and they become soft and delicious.  The copy of the recipe is on a photocopy of my mum's.  I have no idea where the recipe comes from (my mother and I remember differently) and they've become a tradition in our houses, but no one elses.
August 12th – A green food
A green food as a toy…  I think the PaD gods were smiling on me for this one.  
I will also admit that I'm not a great fan of Avocado, unless it's smushed up as guacamole… then I can eat and eat and eat it.
Straying close to the edge with food involved, here are the join of two cherry stalks…
The ingredent that isn't food,  but is involved in every food preparation is time.  This is my kitchen timer (showing the time of day) although to be honest I often use the timer on the cooker or on my phone…
It's about a year since I had my kitchen completely gutted and rebuilt, and I still love it.   I must finish the painting though…
Salt and Pepper grinders, which I think are some of the best I've come across.
A drink that can't be drunk. Graffiti found in Shoreditch.
August 19th – A white food
A white china (or is it plastic) pineapple… the PaD gods were smiling on me when I came across this.
Sweet smelling Sweet peas, a shame this photo won't let you catch their aroma.
A red food preparation slab… also known as a red chopping board.
Two empty jars of Bovril from a bygone era (1oz and 2oz jars) that I found in my garden.
Inside my cup is my fortune and my future?  Not sure what it might be bringing, other than a sticky mess of tea leaves.
August 24th – A food on a stick
A food on a stick on a stick… Trying to work out how to do this without actually using food was interesting… Scrabble to the rescue… and from my days of learning a bit of turkish: kebab means lamb and shish is the name of the stick, so it's lamb on a stick.  Also apparently in certain circles a wooden spatula is known as a stick.
Cooking utensils, of a wooden variety.  All olive wood from Tuscany and given an infrequent oiling to keep them good.
On my fork is a wooden handle… a well loved and used and dirty garden fork that is.
Sorry to any arachnophobes, but I imagine many people with go "Yuk" to this prompt.  I had one of a punnet of rotting strawberries that was part of a large cardboard tray that had been dumped outside my house, but the picture wasn't great.
August 28th – I shop here!
The veg stall at the Farmer's Market I go to each week.
August 29th – This is delicious
Well, it was… 
Home made curry (Butter Chicken) with fresh naan (from a local shop that makes them)… very nice
Messy, but organised.  Getting the stuff together for the 12 days of John F Barnes Myofascial Release training in September.
A seed of an idea.  Food for someone, just not me…
All this not food photography has made me a bit peckish.  
So that's it for this month, I hope you enjoyed the photos.  I wasn't fortunate enough to have been chosen as one of the Fab Four this time around, which is ok as I had fun circling the food theme.  My Food on a stick on a stick photo proved to be one of the most popular of my photos.
There will be a constant (some might think endless) stream of photos on my Instagram feed, so if you can't wait until next month then follow me there. There will be another summary of my photos next month.
Thanks for reading this, my lovely interonauts,
Tim